Thread/Leg Veins
Facial thread veins or broken red veins (telangiectasia) are small unsightly superficial red, purple or blue veins that occur around the nose and across the cheeks and chin. These broken veins occur when the vein dilates and become larger so they are visible through the transparency of the skin. Although facial veins / spider veins are quite common they can cause some distress and embarrassment for those who have them. We have also seen fantastic results for clients who suffer with Rosacea.
Facial veins may be hereditary or as a result of a variety of factors including damage from sun exposure, wind and the extremes of temperature. The over use of steroid creams and certain autoimmune conditions may also induce thread veins. Often the exact cause is unknown and may just be part of the natural ageing process or as a part of a skin condition called Rosacea.
Facial vessels are effectively treated with Intense Pulse Light (IPL) or laser with minimal downtime or risk in just a few quick, easy treatments.
Treatment is suitable for you if you want to:
Reduce overall facial redness and reduce blushing
Be rid of embarrassing broken veins or red spots
Have clearer, brighter, fresher looking skin
This treatment is suitable for the face, neck, chest and hands!!
Before and After Images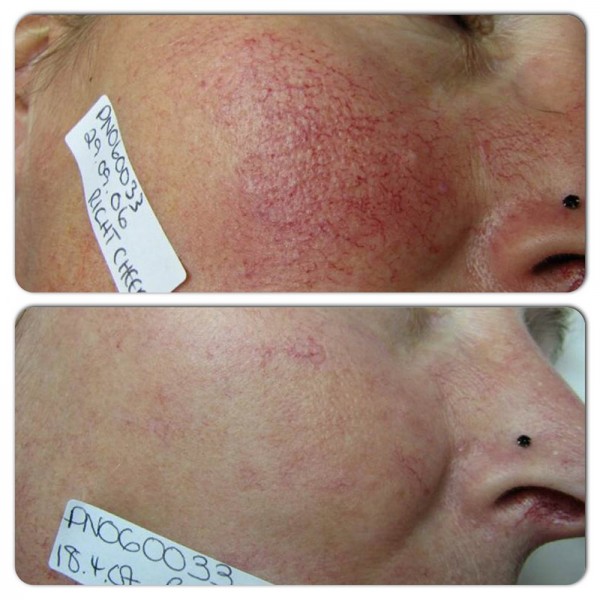 Courtesy of Lynton Lasers Ltd
Leg veins
LOVE THAT BARE-LEGGED FEELING?
Put the joy back into holidays, wearing skirts and swimming, with the safe removal of coloured veins on your legs.
Thread veins are small blood vessels that can, over-time, develop into larger blood vessels. Leg thread veins can be removed quickly and easily leaving your legs smoother and even-toned.
The end result will be clearer, less defined leg thread veins with benefits seen after just one session.
HOW ARE THREAD VEINS TREATED?
Both Intense Pulsed light and Laser systems emit light which is readily absorbed by blood vessels, heating them to the point where they are destroyed. Following treatment, the vessels quickly clear as they are reabsorbed by the body, leaving little or no trace of the original lesion. For intense pulsed light treatment, a thin layer of chilled gel is applied to the skin to aid light absorption by the vessel. The gel is removed and the area cooled. A similar process is carried out for laser treatment except the chilled gel is not required. During the treatment, protective eyewear will be worn.
HOW MANY TREATMENTS ARE NECESSARY?
Typically three to four treatments are needed for maximum results, though small lesions may clear in just a single session. For general redness and rosacea, five or more treatments may be required. Repeat sessions are spaced every four to six weeks.
HOW LONG DOES EACH TREATMENT TAKE?
Treatment is relatively quick and can be just 10 minutes for a single lesion or up to 45 minutes for a full face.
HOW LONG DO THE RESULTS LAST?
Immediately after treatment, some thread veins disappear but may re-occur a few days later but be less visible. With further treatment these vessels will disappear and are not likely to reoccur. However, once you have a tendency to facial redness you always will so new veins may appear at some point in the future making further treatment necessary. Maintenance sessions may not be required for several years though as results are long-lasting. To help prevent new veins forming we strongly advise the use of a good sunscreen to protect the skin from damage.
WHAT DOES TREATMENT FEEL LIKE?
Treatment is mildly uncomfortable but there is no need for anaesthesia and the procedure is actually very quick. Sensations vary but most people describe it as very quick, hot pin pricks.
HOW DOES LASER THREAD VEIN REMOVAL WORK?
Sensitive lasers are used to target and break down the unwanted red veins through a process called photothermolysis. The laser is administered in short bursts to avoid harming the skin.
HOW WILL I FEEL DURING THE TREATMENT?
You may experience some minor discomfort with laser treatment, but generally laser treatments are safe and painless.
WHAT HAPPENS AFTER THREAD VEIN REMOVAL?
You may notice some swelling or slight bruising but this is temporary and fades to reveal your newly clear skin.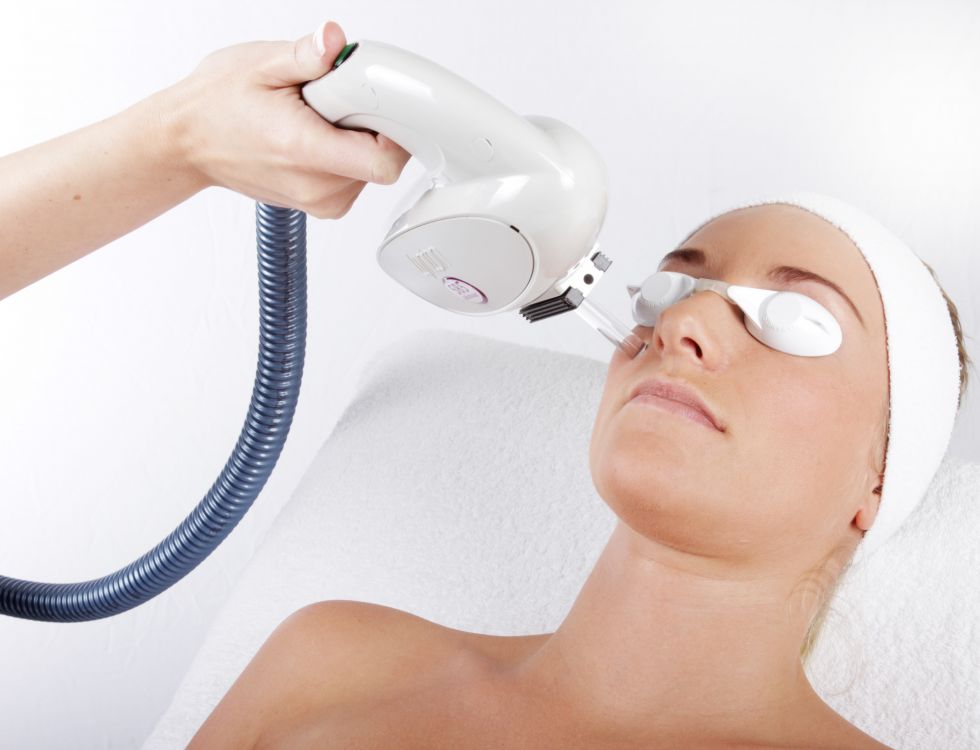 Our extensive training and range of technologies means that we can offer you the very best unbiased advice on which treatment to select. Here at Luciderm we offer a range of Laser and IPL options to suit many concerns on all skin types. We have chosen the Lumina medical grade combined IPL and laser platform which is used in hospitals and dermatolog...